This Easy Chicken Noodle Casserole is made with egg noodles, chicken breast, a creamy, tasty filling and topped with buttered bread crumbs!
A FAMILY FAVORITE DINNER RECIPE
I love a good casserole. You just can't beat a tasty and filling meal that is all in one baking dish. This one is made with easy to find ingredients. In fact, you probably have most of these ingredients in your pantry right now.
FREQUENTLY ASKED QUESTIONS:
What can I substitute for canned chicken?
I created this recipe to be a "pantry" recipe. Which means I wanted you to be able to pull almost all the ingredients from your pantry to create it. However, you could boil chicken and dice it. You could use a store-bought rotisserie chicken. You could use leftover roasted chicken. You have a lot of options depending on your personal preference.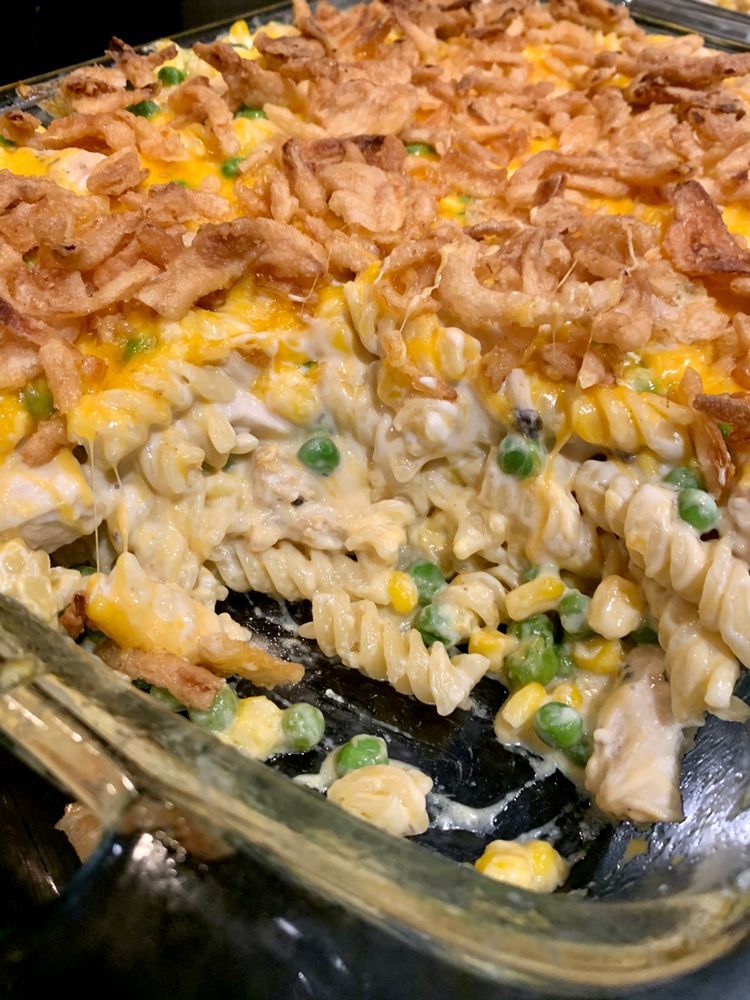 This creamy chicken noodle casserole is a satisfying comfort meal. Classic chicken soup flavors like egg noodles, peas, and carrots help this cozy meal come together quickly along with pre-cooked chicken. It can be on the dinner table in less than an hour!
Ingredients
1 package (12 oz) egg noodles, cooked and drained
Meat from 1 rotisserie chicken, shredded
2 cans (10 oz each) condensed cream of chicken soup
1 cup mayonnaise
1 cup milk
1/2 onion, finely diced
2 cups cheddar cheese, shredded
1 1/2 cups frozen mixed veggies
1 cup Panko bread crumbs
1/2 cup butter, melted
How To Make Chicken Noodle Casserole
Preheat oven to 350°F and lightly grease a 9×13-inch baking dish with nonstick spray. Set aside.
In a mixing bowl, stir together chicken, condensed soup, mayonnaise, milk, onion, cheese, and frozen veggies. Gently fold in egg noodles and spread mixture into baking dish.
Sprinkle Panko bread crumbs evenly over the top, then drizzle with melted butter. Bake until golden brown and bubbly, about 30-35 minutes. Let sit 5 minutes before serving. Enjoy!