You will love this easy homemade potato soup with potatoes, veggies, garlic, and a luscious creamy broth. This soup is comforting and loaded with flavor. Jump to the Easy Homemade Potato Soup Recipe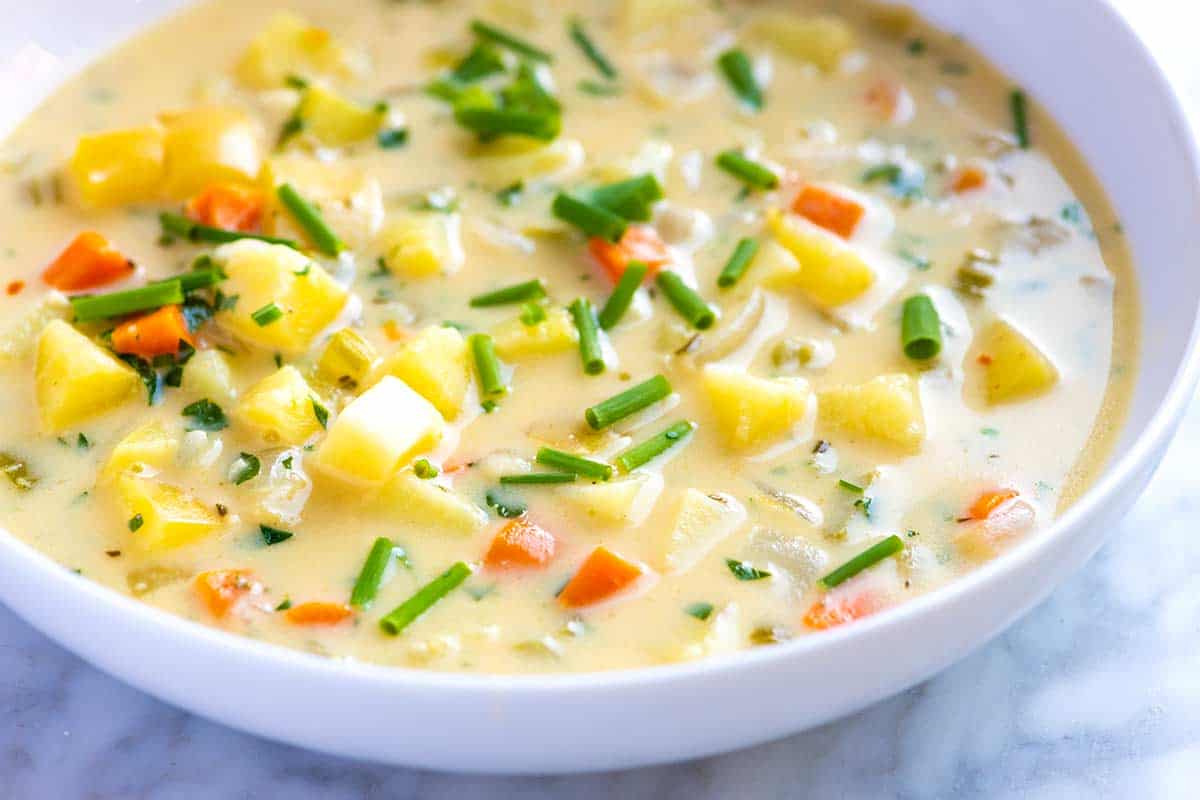 INGREDIENTS
1/3 cup unsalted butter (2 oz | 60 g)
1 onion finely chopped
1 cup large carrot peeled and diced
1/2 cup diced celery
3 cups peeled and diced potatoes
4 cloves garlic minced or finely chopped
1 1/2 cups cooked ham, diced (add more if desired)
1/3 cup all-purpose flour (plain flour)
2 cups low sodium chicken stock (or broth)
2 teaspoons chicken Bouillon
3 cups milk (whole milk or 2%)
1 pinch of salt, if needed (adjust to you taste)
fresh cracked black pepper
INSTRUCTIONS
Heat the butter in a pot over medium heat. Sauté the onion, carrots, celery until beginning to soften (about 4 minutes).
Add the ham and potatoes, cook for 2 minutes, then add the garlic and sauté until fragrant (about 30 seconds).
Mix the flour through and cook for 2 minutes.
Stir in stock and bouillon, mixing all ingredients together. Increase heat and bring to a boil until potatoes are 'just' fork tender, about 10-12 minutes.
Reduce heat to medium-low, add the milk and stir over the heat until thickened (about 5 minutes).
Taste test and season with salt and pepper, if desired.
Serve warm.
NOTES
Simmer the ham bone in a stock pot filled with enough water to cover the bone halfway (about 2 quarts/litres, depending on size of bone).
Bring to a boil, reduce heat, cover with a lid and let simmer until very fragrant (about 1 hour).
Discard hambone
Replace the chicken stock with your ham broth.
TIPS
If your soup is too thick once it's finished, simply add more milk in 1/4 cup increments until reaching your desired consistency.
Alternatively, if your soup is not thick enough to your liking, mix 1 tablespoon of cornstarch together with 2 tablespoons of extra milk.
Pour the mixture into the soup and allow to boil for a few minutes to thicken, while stirring. Repeat for an even thicker soup!